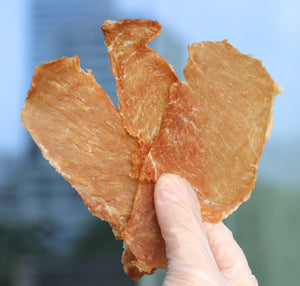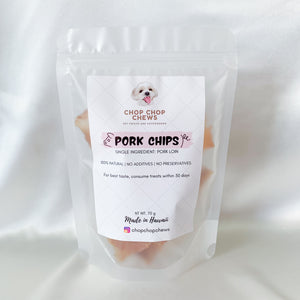 Yum!! 🐖
These pork chips are great! They're light, crispy and easy to break apart. These are a little bit thicker than the chicken chips. I love that these jerky chips are full of minerals and supports my pup's stomach, muscle and brain health, while being single ingredient. I usually break these chips into smaller pieces to make them last longer.
Our Fav!!
These pork chops are nice and thin enough for our senior dog who has had some of her teeth removed to eat. She is verrry picky but will never turn away these pork chops. We highly recommend them!
The Pork Chip King Approves
These pork chips are Bucky's favorite treats to eat! I love how they are crunchy but not too hard. Bucky will sometimes swallow his treats in a rush (which led us to the vet one time), so I always feel at ease giving him Chop Chop Chews chips because they are not so thick and hard. We use these as training rewards because they can easily be torn apart. It helps make the bag of chips last longer because he would just devour it if I gave him the chance!
---