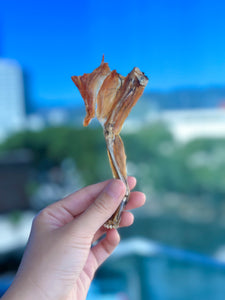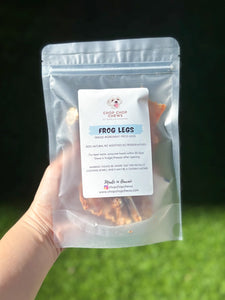 Great light chew! 🐸
This was my first time trying frog legs and my pup loved it! I wasn't sure if she would be able to chew it on her own but she ate it like a champ and she was asking me for more! They're pretty hard so it's really hard to break them into smaller pieces so I give it to her as a whole. Since it does have bones, make sure you're watching your pup eat the treat incase they start choking.
Great treat!!
My dog, Cleo, loved this one! She was super duper motivated when I brought it out. My dog also has a sensitive stomach and skin so I was kinda worried but she never reacted negatively to the treats!
My Favorite Chew
My little pomchi can be picky on what treats he eats.When he first tried this light crunchy chew, he was instantly in love. He devoured it in minutes. This is a great source of protein after a long walk. 😁
amazing!!!
My dog Oatmeal loves Amy's frog chews!! She can never get enough of it!
Crunchiest
Frog legs is a great way to introduce your pups to bones and chopchopchews has the crunchiest and fresh legs. Toby loves it and can't get enough. Amy is also the best and super fast with getting our orders. Not to mention other pups also has discount codes that anyone can use.
---