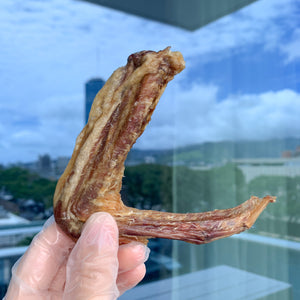 Wing Wing! Who's There?
These duck wings are great as a medium chew! My pup is a heavy chewer so these take her less than five minutes to finish but she still tries to ask me for more after she's done with her chew. I like that there's an option to buy four or eight pieces of duck wings and I also love that there's no additives or preservatives, just the duck wing. As with all the other bones, make sure you're supervising your dog when they're eating it incase they choke!
Love these!
We were hesitant at first because we were worried our dog wouldn't be able to eat them because he is a smaller dog but he ate them without any problems. He loves duck already and ate the whole wing in under 5 mins 😅
We love feeding him single ingredient snacks. If you haven't already tried these. THIS IS YOUR SIGN.
Please remember tomonitor while snacking in case any choking happens.
---